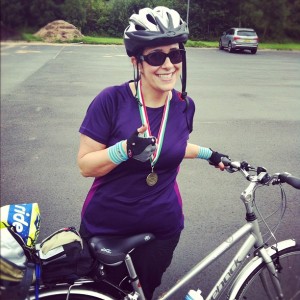 I'm currently a Prinicpal Lecturer at the University of Central Lancashire in the School of Physical Sciences and Computing. I was born and bred in Gibraltar and came to Preston when I was 18 to study in the UK. I have a BSc in Computing with Business, a Post Graduate Certificate in Management, a Post Graduate Diploma in Education and an MEd in Professional Practice. As if that wasn't enough I am currently studying for my doctorate part-time, and I'm proud to say that all of my academic studies have been at UCLan.
On a day-to-day basis, my main focus is educational technology. I am passionate about how we can transform pedagogy in the classroom in new and innovative ways. The main focus of my doctorate is the use of social media, and specifically Twitter, in education.
I love my work as a STEM Ambassador and I am currently a designated UCLan Engagement Catalyst award holder. I work towards trying to engage more young people with Computer Science, and more specifically, girls. I would like to see an increase in the number of girls studying computing, and I work towards trying to address the gender stereotypes around professions in the discipline.
Please get in touch if you wish to discuss collaboration.
Specialties:
social media
technology in education
user interface design
information systems
social networks
research skills
Additionally, I am a founder member of the 4 Week Challenge (4WC) in Computing, an award winning module designed to enhance the curriculum and help students engage with the subject, tackling the feeling of isolation that affects retention figures at many institutions. The team I work with are currently carrying out pedagogic research with First Year undergraduate Computing students, specifically around the areas of retention and engagement.
I am the Placements Manager for the School (Computing) and responsible for students who are on a sandwich year out in industry.
I am on the University's Academic Board.
As a University Review Panel Member, I am involved with validations and periodic reviews in the University and its partner colleges. As well as participating in internal validations I am an external examiner for Sheffield Hallam University and the University of Kingston.
I was an editor of IMPACT, a project to examine the impact of our School's research on its teaching. We produced a book of case studies which demonstrated the dynamic relationship between research and teaching at UCLan. Similarly, I am also the founder and editor of our 1st Year Computing undergraduate research journal.
As can be seen from my cheesy photo, I love to cycle. I also enjoy travelling, and I am lucky enough, on occassion, to travel on behalf of the university. Sometimes, I almost wish I could take my bike with me! I do ALWAYS take my Kindle. I enjoy cooking, and am always keen to try my hand at authentic local cuisine when I go travelling.