Phew, that was another successful trip to India with the University; I know this because it has taken me about a week to recover. This one was mostly a recruitment drive, with attendance at various fairs and meetings with education agents.
I feel I learn a lot more about my job every time that I go abroad. It is really useful to see other cultures and learn more about them, it certainly helps me see our International students in a different light, and empathise more with their experience at UCLan, and the obstacles that they face by choosing to study in a different country, often in a different language, and within a very different environment.
India is like a different world, especially if you have never left Europe. This was my second visit as I went for the first time last November, so I now knew what to expect. Well I thought I did. India is like an onion, you peel it off layer by layer, and there is still something else underneath.
Things I know about India and you should know too…
You are a foreigner, people will stare – get over it!
Food is amazing, but after a while you will be desperate for something bland and non-spicy.
Yes doesn't mean yes.
Nodding 'no' doesn't mean no.
Learn patience, traffic is crazy and you cannot hurry things along, it is what it is.
I love India, and I hope to return again. Work trips do tend to be very tiring, you are travelling, in meetings, talking to students, or (work) socialising. This last one is actually particularly important as more time is spent doing this than anything else. People want to get to know you, and know that you are interested in them, before they will even consider a business partnership with you. I actually like this, I like meeting new people and learning about them, so it doesn't feel like work to me, but it is tiring, especially as you are essentially away from home 24 hours a day.
Meet the UCLan India team…
I was really lucky to be on this trip with two fantastic colleagues, Govind, who is our regional manager for our India office in Delhi, and Sarah, who works for the International Office in Preston.
Working hard at education fairs…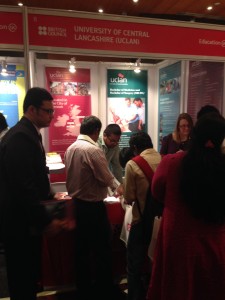 We must have met and spoken to hundreds of people at the fairs. I personally spoke to many students interested in coming to UCLan to study Computing and Engineering courses, it was really exciting to see how keen Indian students are on continuing their studies in the UK, and how hard they are willing to work.
It was not all hard work though, the British Council also put on a lovely evening event the first night we were in India, in Chennai, with fantastic food and rather interesting entertainment.
We also got the opportunity to meet and mingle with staff from other universities…
And on the last night of the trip, we were even lucky enough to find a few spare hours before our flight to catch up with some friends, old and new, in Mumbai…